How Proper Protassium+ SOP Application Could Impact Your Bottom Line
---
There's no disputing the importance potassium plays in promoting and maintaining healthy, consistent almond yields. But equally important is ensuring proper application rates and placement. Here are some tips to help you get the most out of your Protassium+® sulfate of potash (SOP) application:
Tip #1 | Make sure you're applying enough Protassium+ SOP to make up for what's lost at harvest.
Due to the high removal rate of potassium at harvest, it's essential to replenish Protassium+ SOP every year to avoid the harmful impact potassium deficiencies can have on yields. Leaf sampling in July should be used as an indication of potassium levels, with the goal of achieving and maintaining critical leaf concentrations of potassium needed to optimize yields. Typical annual applications for replacing potash range from 150 – 250 K2O pounds per acre. However, higher application rates may be necessary when trying to rebuild potassium to sufficient levels.
Tip #2 | Place Protassium+ SOP as close as possible to the water source and root system.
One often overlooked—but essential—component to ensuring proper potassium uptake is fertilizer placement. When applying Protassium+ product in granular form, place it in close proximity to the water source where the roots can most efficiently access and utilize the nutrients. Use the following illustrations as a guide to help you.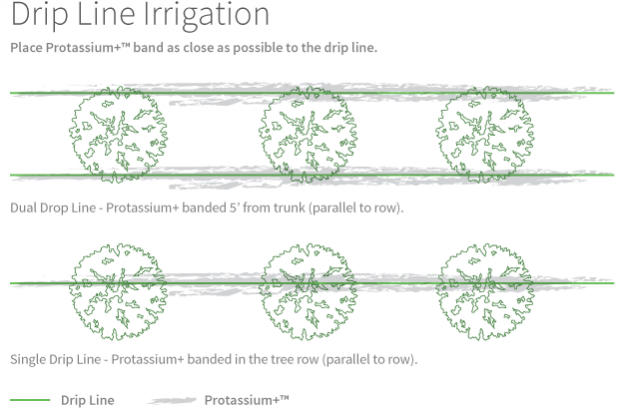 Fan Jet Irrigation - Broadcast Protassium+ premium sulfate of potash in the sprinkler wetted area.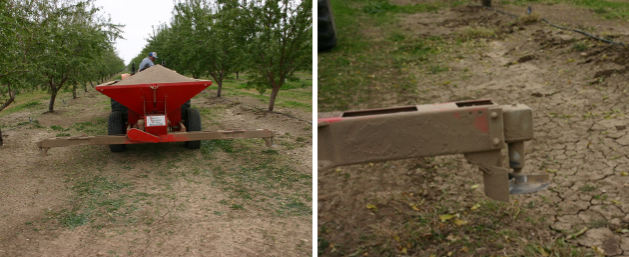 ---