Protassium+ Premium Sulfate of Potash Increases Yield in Alfalfa Field Trials
---
Download this study

Optimizing_Alfalfa_with_Protassium_Premium_SOP
1 MB / Type: pdf
The Proof is in the Potash
2012 field trials in Eltopia, Washington investigated which of the two most commonly used potassium sources had the best impact on alfalfa. Protassium+® premium sulfate of potash was the clear winner.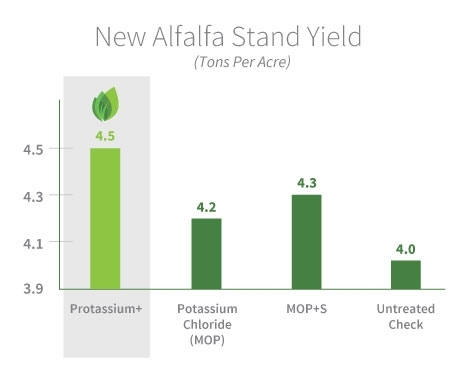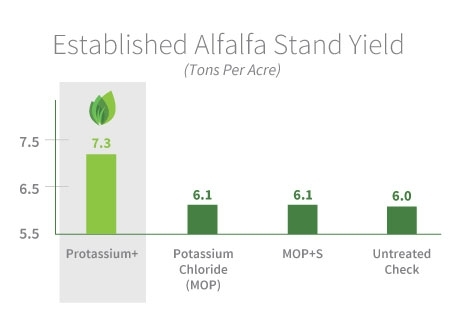 The Eltopia, Washington plot trials investigated potassium source impact on both new and established stands of alfalfa. The four treatment variations consisted of:
200 lb. of K2SO4 (Protassium+)/acre
200 lb. of KCI (muriate of potash)/acre
200 lb. of KCI + sulfur (equal to the amount in Protassium+)/acre
An untreated check
In both variations, Protassium+ SOP delivered higher yields over MOP.
In new alfalfa stands, Protassium+ SOP resulted in:
A 600 lb./acre yield over MOP
A 400 lb per acre yield advantage vs. MOP + Sulfur
Better stand establishment and first cutting
In established alfalfa stands, Protassium+ SOP demonstrated:
More than a one ton/acre yield over MOP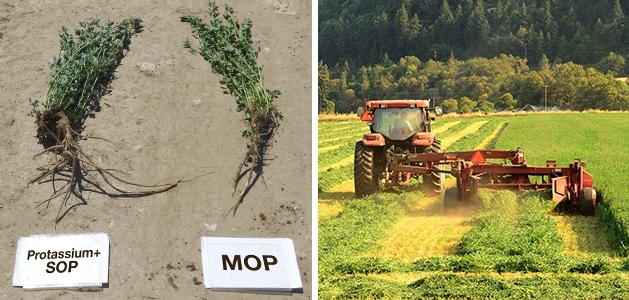 In both trials, alfalfa plants treated with Protassium+ premium sulfate of potash experienced significant increase in yield per acre. The results of the field trial clearly show that choosing Protassium+ SOP as a potassium source contributes to greater yield, forage quality and revenue for growers.
Learn more about potassium's role in alfalfa by watching our video on how the right K source makes a big difference.
---