April 26, 2017
Why Protassium+ Is the K Fertilizer of Choice for Vineyards
---
After 2015's low crush due to drought, California grape crush numbers were back on the rise in 2016.[1] This higher crush most likely means that vines used more nutrients last year. This season, grape growers should follow recommended fertilizer practices to:
Produce high fruit quality in this year's grape crop
Maintain potassium (K) levels in the permanent vine structures
University of California Cooperative Extension's viticulturist in Kern County, Ashraf El-Kereamy, Ph.D., focuses a good amount of time on K fertilization of grape vines. He is currently working on research to determine the effect of different rates of potassium fertilization on the fruit quality of Scarlet Royal table grapes.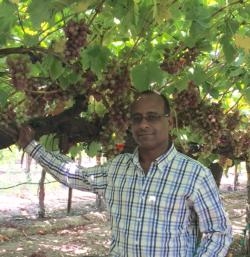 Dr. El-Kereamy provides some quick reminders on the importance of potassium to grape vines:
Potassium, like other plant nutrients, is very important for vine growth and development.
Building a healthy vine with a good reserve of carbohydrate will be reflected in the following year's canopy growth and yield.
The period from bud break to veraison is a very active growth period. We need to pay close attention to the whole fertilization program during this period to build a good canopy able to provide the required nutrients for high yield and good fruit quality.
The guide "Management of Mineral Nutrition in Table Grape Vineyards" reminds growers that root uptake for K is most rapid during berry development and ripening. To supply the K that vines need for the current season's fruit, as well as build the necessary reserves for next season, growers should apply potassium fertilizer through drip irrigation weekly from early spring (a few weeks after budbreak) up to veraison.
Sulfate of potash (also known as potassium sulfate) is the most common K source applied in vineyards. There are several good reasons. Dr. El-Kereamy explains, "I prefer potassium sulfate (SOP) over potassium chloride (MOP) because of its potential to help make some other nutrients available and aid in the protection from soil pests and diseases."
Because grape vines are sensitive to chloride, choosing a K source low in chloride content is important. Protassium+® premium sulfate of potash (SOP) has less than 1% chloride content. In contrast, MOP's chloride content is 47%. "MOP is not a good option when the chloride is high in the soil or in the irrigation water," Dr. El-Kereamy adds.
Contact your local fertilizer supplier for Protassium+ products for use in drip irrigation systems and in organic farming operations.
[1] http://www.westernfarmpress.com/grapes/2016-california-grape-crush-squeezes-85-percent-more-juice, https://www.nass.usda.gov/Statistics_by_State/California/Publications/Grape_Crush/Prelim/2016/201602gcbtb00.pdf
---