November 5, 2014
Understanding El Niño and How It Impacts You
---
"El Niño is a term associated with a weather event that periodically takes place in a specific area of the Pacific Ocean along the equator," says Jeff Doran, Senior Business Meteorologist for AgriBusiness at Planalytics, Inc.
"When the sea surface temperatures reach half a degree (+0.5) Celsius above normal for five consecutive three-month periods in an area known as the ENSO (equatorial Pacific) region, the meteorological community declares an El Niño event."
Niño to Niña . . .and back again.
After the last El Niño event ended in the spring of 2010, Pacific Ocean temperatures started to cool, resulting in less evaporation occurring than under normal or "neutral ENSO" conditions. The resulting La Niña failed to bring moisture-rich clouds to the Southwest. That, combined with higher temperatures, led to the epic drought events in 2011 in Texas and spread into the Corn Belt in 2012.
"In late 2012, we began to see warmer ocean temperatures encroaching into the ENSO region, putting an end to the problematic La Niña," said Doran. As this transition was occurring, the worst of the drought impacts began to shift into California and the PNW late last year and intensified in 2014.
"Ocean temperatures have continued to warm and have been at least partly responsible for a better moisture situation in the Plains and Mountain West regions this growing season," Doran continues. "The big question now is how intense this El Niño event will be. We typically associate these events with less extreme heat during the growing season for the Corn Belt, more precipitation for the western states, and greater snowfall than normal for the winter in the Rockies and Cascades. If intense enough, an El Niño episode may significantly alleviate, if not eliminate, the long-standing drought in these areas."
El Niños can vary. What's in store for this year?
Research has shown, however, that not all El Niños are alike. As the maps below indicate, there can be big differences in temperature and precipitation based on the intensity of these events.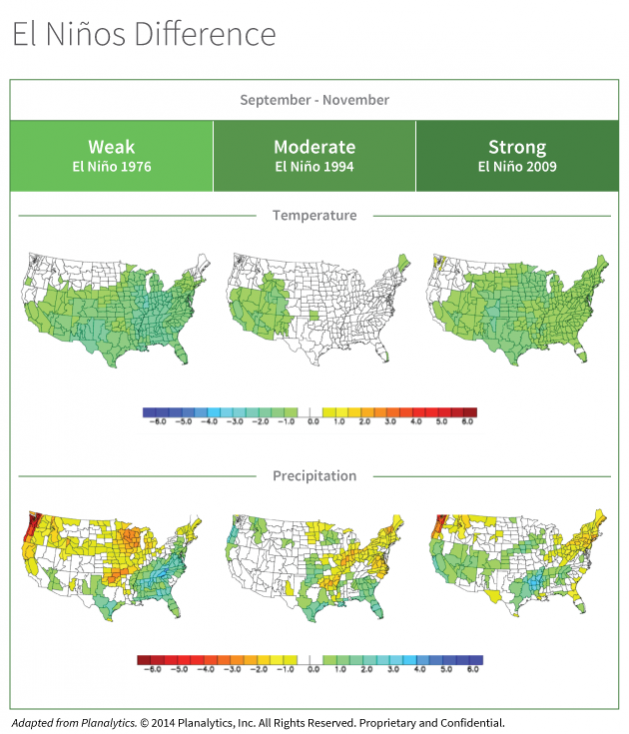 "We have had the opportunity to monitor the sea surface temperature trends along with various ocean and atmospheric cycles and compared it to other historical 'onset' events," says Doran. He goes on, "As a result, we are considerably less confident that this will be a significant event, most likely a weak El Niño during the upcoming winter". Unfortunately, this is not terribly good news for moisture-starved California and the PNW. It is likely that moisture loading (rain and snow) will not be nearly enough to alleviate the record deficits in some locations. If realized, 2015 will be one of continued challenges for the region.
In agriculture, weather, water shortages, and drought conditions impact a grower's strategy. And maximizing the effectiveness of fertilizer inputs during times of adverse growing conditions is critical, especially when choosing a K source. Protassium+® (sulfate of potash 0-0-50-17S) provides the essential potassium plants need without the addition of chloride found in most other K sources. This is especially important during times of drought, as the need for more efficient nutrient uptake is necessary.
---