The Four "R's" to Effective Post-Harvest Fertilizer Management
---
Post-harvest fertilizer management is key to helping ensure this year's almond yields will be just as successful as last year's. Using the 4R Plant Nutrition Manual from the International Plant Nutrition Institute as a guide, the Four R's for almond growers are:
Right Source: Protassium+®
Almonds demand high potassium levels for optimum production.
Almond trees are salt- and chloride-sensitive.
Only Protassium+ provides the optimum level of much-needed potassium and sulfate without excess chloride or salts.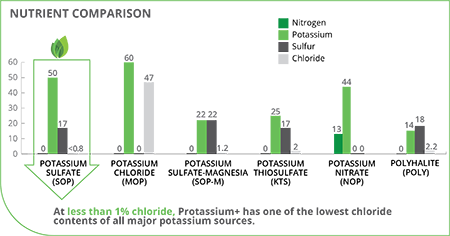 Right Rate: 200-400 lb. of potassium/A
Depending upon your yield, more than 400 lbs. of Protassium+ may be needed to correct nutrient deficiencies in the soil.
Using your most recent crop yield data and the findings by Dr. Brown and his team at UC-Davis, you can calculate the amount of potassium removed from soils.
Set a reasonable yield goal for the next crop, know what the nutrient demand will be, then make fertilizer decisions accordingly.
Conduct tissue sampling at the right time (next spring, not summer) to evaluate any signs of deficiency and make corrections to the fertility program.
Conduct soil sampling and soil surveys to test for levels of potassium, sulfur, other nutrients, and soil physical and chemical properties.
Remember the right rate of K to apply: 200 to 400 pounds per acre.
Right Time: 75% - 100% applied post-harvest
Take advantage of post-harvest irrigations and winter rains to enhance crop nutrient uptake and help ensure adequate potassium availability for bloom in the spring and then nut set and development.
Evaluate conditions in the spring for better than expected bloom or nut set that would indicate both greater yields and potassium demand than expected.
Solubilize Protassium+ or use enriched super phosphate (ESP) (1-0-8) Protassium+ liquid through irrigation, to ensure the crop doesn't run short of much-needed nutrients.
Right Place: In the wetting zone of the irrigation
Banded application
Directed broadcast over the feeder roots and wetting zone of the micro-jets, at a distance of four to six feet wide.
In-season application through irrigation (this works well when small amounts of potassium are needed)
To learn more about how the Four "R's" can help you make your orchard blossom like never before contact us today.
---