January 4, 2016
State of the Potato 2016 – Promotion, Profits and Potassium
---
5 Questions with Dr. Samuel Essah, from Colorado State University's San Luis Valley Research Center
With 2015 production higher than recent years and fading consumer consumption[1], the potato industry faces both challenges and opportunities in 2016, according to Samuel Essah, Ph.D., associate professor, Colorado State University's San Luis Valley Research Center. Despite an oversaturated market, Dr. Essah shares how growers can still protect profits and promote potato sales in 2016.
1. How will the high potato production in 2015 affect growers?
Higher potato production always floods the market, driving prices down. In turn, revenue goes down for potato growers.
2. What new trends or strategies do you predict will help elevate potato profits in 2016?
There is much opportunity for the potato industry to brand varieties according to specific qualities – such as nutritional or health benefits. For example, Purple Majesty, a potato variety having purple skin and flesh, is known to have high antioxidant properties and an ability to reduce high blood pressure. Educating consumers about the Purple Majesty's desirable nutritional and health benefits, and branding its variety-specific qualities, creates consumer demand and, in turn, improves sales.
3. Specific to K, what can potato growers do to support crop health and yield?
From many years of research, I recommend the use of sulfate of potash (SOP) as a source of K in potato production. Use of SOP as a source of K improves potato tuber yield and quality. It also improves the resilience of plants against biotic (disease organisms) and abiotic (environmental) stress.
4. When comparing K sources for potatoes, how does SOP fare against muriate of potash (MOP)?
Research has proven SOP increases yield in premium-size potato tubers. Additionally, using SOP as the K source in potato production increases tuber specific gravity and reduces tuber external defects.
5. Heading into 2016, what else should growers keep in mind for a profitable potato crop?
Each potato cultivar has their own unique set of cultural management requirements to achieve maximum tuber performance. Therefore, to achieve maximum genetic potential, new potato cultivars should be evaluated through research to determine cultural management requirements.
---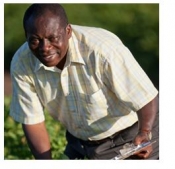 About Dr. Essah
Samuel Essah, Ph.D., associate professor and extension specialist at Colorado State University-Department of Horticulture & Landscape Architecture, leads the Potato Management and Physiology Program at the San Luis Valley Research Center. He's currently a director of the Potato Association of America and serves as senior editor of the Production and Management Section of the American Journal of Potato Research. Click here to read his complete biography.
[1] http://www.potatogrower.com/2015/08/industry-tackles-losses-looks-to
---