August 28, 2014
Potato Field Trial Yields More Evidence for the Value of Protassium+.
---
When it comes to choosing Protassium+® or Muriate of Potash (MOP) as a potassium source, the proof is in the potatoes. A recent plot study near Othello, Washington revealed that potatoes fertilized with Protassium+ yielded over five tons more per acre.
The study was started on April 26, 2013, and involved Cultivar Umatilla Russet potatoes. Steve Holland, a research and agronomic consultant with Holland Agricultural Services, conducted the trial. Holland utilized 10' x 30' plots with four replications within a commercial field, and five treatments consisting of: Protassium+; MOP; MOP plus sulfur; a Protassium+/MOP blend; and an untreated control.
Whole seed potatoes were used and ranged from 2 to 2½ oz. in size. They were hand planted with 10" spacing in 34" row widths, and seed depth of the finished hill was 6½ inches.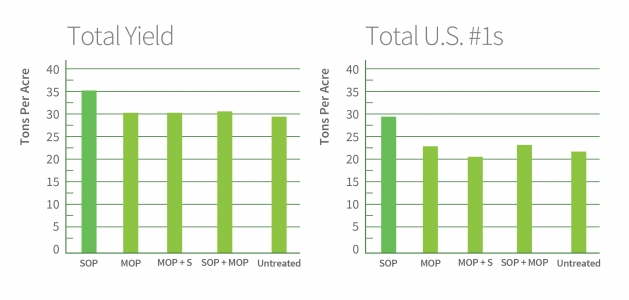 Upon harvest, significant differences in total yield and quantity of no. 1 potatoes were seen in the Protassium+ plot. In fact, the results showed that Protassium+ treated potatoes yielded more than five tons an acre higher than the MOP fertilized potatoes. And of that yield, Protassium+ produced over three tons more U.S. no. 1s than MOP did.
Results like these clearly point to a positive impact on a grower's bottom line through the investment in Protassium+.
Although storage results were not yet completed at the time of this article, past studies have shown that K sources low in chloride -- like Protassium+ -- help reduce bruising, sprout development and shrink loss.1 All of which translates into additional revenue from using Protassium+ as a potassium source.
For potato growers debating their choice of potassium, the results of this latest trial can't be ignored. For greater potato yields and more U.S. no. 1s, the value is with Protassium+.
REFERENCE: 1 Colorado State University Potato study, S. Essah, 2009
---