March 23, 2016
It's Growing: The Organic Caneberry Market
---
Why caneberries are the new CASHberries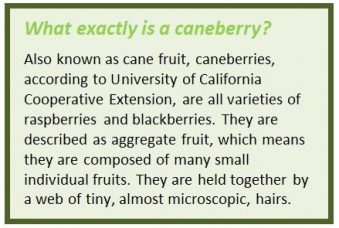 The United States is the one of the world's top producers of caneberries. Although production occurs across much of the country, most is concentrated in Oregon and Washington.
Oregon, where nearly 50% of conventional and organic blackberries in the U.S. were grown in 2015, is finding organic blackberry production to be a vital niche market for its economy and farmers. Washington is part of this trend, too. According to the American Society for Horticultural Science, organic berry producers reported a farmgate value of $25.3 million in 2012. In the same year, organic berry production increased by 280%, and acreage went up 104%.[1]
Growing Better Berries: (K)aneberry Best Practices
Higher production rates are expected this year, and caneberries' demand for potassium will be higher, too. Berry crops require significant levels of potassium to form a positive interaction between K and N, guaranteeing a longer shelf life with maximum quality and taste. If berries don't receive the potassium they need, scorching along the margin, cupping, curling and spotting occur on the leaf – resulting in soft, poorly formed fruit.
For quality berries, Oregon State University recommends applications of potassium at 150 to 350 pounds per acre.[2] However, growers must use a potassium source that is low in chloride. High chloride concentration in the soil may hinder berries' growth and even affect fruit formation. Choosing a sulfate of potash (SOP) product over muriate of potash (MOP) is not only the better choice for chloride-sensitive berries, but also for larger yields, shoot length and shoot weight.[3]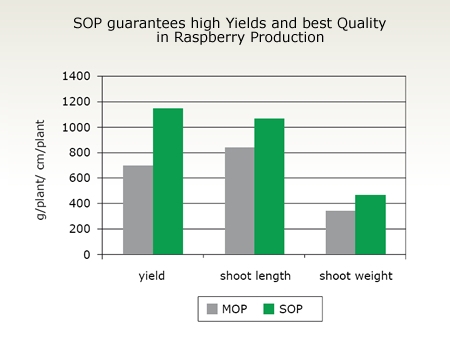 The K you need…without the risk of high chloride levels
With 50% potassium and 17% sulfate sulfur, Protassium+® is the right K choice for berries. Now available in organic, berry growers have a pure, consistent and reliable potassium (K) fertilizer option with Protassium+® Organic. Ideal for conventional or organic crops, Protassium+ products are rich in the nutrients berries crave and contains virtually no chloride, ultimately optimizing plant health and maximizing yields.
To learn more about the benefits of Protassium+ on caneberries, review berries need for K or directly contact your regional representative here.
---
[1] http://www.ashs.org/news/277839/Production-practices-evaluated-for-organic-trailing-blackberry.htm
[2] http://smallfarms.oregonstate.edu/sites/default/files/nutrient_management_berry_crops_osu__may_20131.pdf
[3] http://www.sopib.com/images/website_images/raspberry_production.jpg
[4] Graph: http://www.sopib.com/berries.html
---