July 20, 2015
Increased Demand Driving Need for Avocado Growers to Evaluate K Sources During Drought
---
Three years into a historic drought, California farmers are well aware of threats posed by incredibly dry conditions and mandatory water restrictions. Specifically, avocado growers, who produce nearly 90 percent of the nation's avocados, are searching for ways to maint ain or exceed the previous year's crop, as consumer demand for the fruit continues to skyrocket.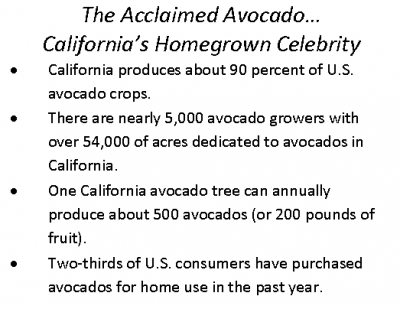 Withstanding the Drought – what's at stake for avocado growers?
While consumer demand can increase price, it will not increase rainfall. According to the California Avocado Commission, there was a $0.25-per-pound increase from 2013 to 2014[1]. Considering 2015 production is expected to tip 283 million pounds[2], that $0.25 equates to $7,075,000 of income for growers – but that's contingent on avocado crops overcoming the stress of drought. And, because drought conditions can quickly increase soil salinity, avocado farmers are facing specific challenges to maintain yields. While there is no way to manage the lack of water, there are ways to minimize potential for soil salinity to reach harmful levels.
Avocado Cravings for K20 and H20 Creating Soil Salinity Sensitivities
Avocados' potassium (K) uptake requires growers to replenish 100 pounds of K for every 10 tons of harvested avocados. Some K sources, like muriate of potash (MOP) which is 47 percent chloride, can increase soil salinity levels. The good news is, growers do have K source options, like sulfate of potash (SOP), such as Protassium+® – with less than 1 percent chloride. Protassium+, a premium SOP (0-0-50-17S) K source, provides growers with high potassium and sulfate sulfur without contributing to already high and potentially damaging salinity levels, which helps protect the crop, and profits.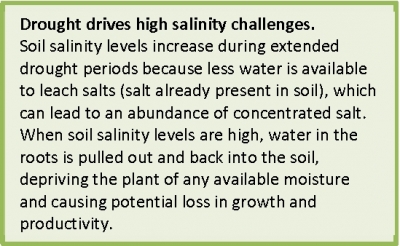 [1] http://www.californiaavocadogrowers.com/industry/pounds-and-dollars-variety
[2] http://www.californiaavocadogrowers.com/industry/crop-projections-and-estimates
---