December 2, 2016
Compass Minerals Gains National Recognition
---
For two consecutive years, Compass Minerals has been named to Forbes' list of the "100 Most Trustworthy Companies in America". This recognition is continuing evidence that building a transparent and accountable culture is important to Compass Minerals and demonstrates commitment to workplace integrity.
"It's a great achievement to be recognized among such notable companies," said Fran Malecha, President and CEO of Compass Minerals. "This recognition reaffirms to our employees, customers, the communities in which we operate, and our shareholders, the high value we place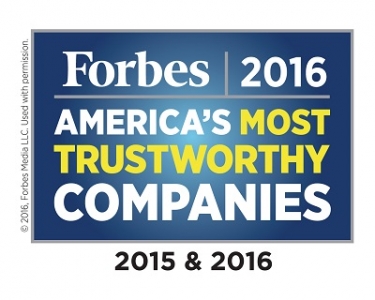 on integrity."
The America's Most Trustworthy Companies is a list published and produced annually. More than 2,500 publicly traded companies were interviewed to identify consistent demonstration of corporate governance in North America.
Organizations are judged on the AGR (Aggressive Accounting and Governance Risk) rating system. For the judging, a scale of 1 to 100 was used, and 70 was the lowest score to be included. Compass Minerals was placed in the mid-cap group, scoring a 97 for its current AGR and an average AGR of 89 for the last four quarters.
Click here to read the full story and see the 2016 list of 100 most trustworthy companies in America.
---