March 3, 2016
Calling all Potato Growers: If You're a #TaterCreator, Post Photos for Prizes
---
Starting March 7, #TaterCreator Photo Contest invites potato growers to share planting photos to win $100, Yeti® cooler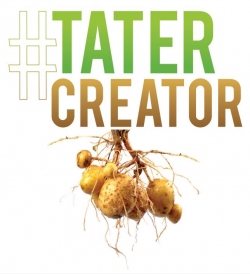 To reward potato farmers for the long hours and hard work that comes with planting season, Protassium+® invites growers to partake in the #TaterCreator Photo Contest by sharing a potato planting photo via Facebook or Twitter. Today through April 10, the first 100 photo entries will receive a pair of leather-palm work gloves. The five most popular #TaterCreator entries will each win a $100 Visa® Gift Card; one grand prize winner will receive a Yeti® HOPPER 30 cooler.
HOW TO WIN?
Potato Planting Photo + Posting=Prizes
Anyone (age +18) can enter by posting a potato planting photo using hashtag #TaterCreator to Facebook and/or Twitter; only photos posted March 7-April 10, 2016 are eligible to win.
Prizes:
First 100 photo entries – Leather-palm work gloves
Top 5 photos entries – $100 Visa Gift Card ---- Five (5) photos receiving the highest number of "Likes" and/or "Favorites" via Facebook and Twitter (respectively) for duration of contest
Grand prize winner – Yeti HOPPER 30 cooler ---- The photo receiving the most "Likes" and/or "Favorites" via Facebook and Twitter (respectively) for duration of contest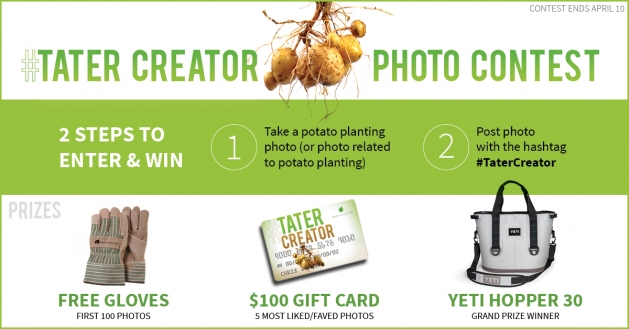 Contest Details
#TaterCreator Photo Contest begins March 7, 2016 at 12:01 a.m. (CT) and ends April 10, 2016 at 11:59 p.m. (CT); the sooner you post/share your photo, the more "Likes" and/or "Favorites" you can collect toward winning!
Photos not including potato planting (or activities/context relating to) are ineligible for prize(s) – but creative and unconventional photos are encouraged.
Original photo is required (i.e. not written property of another individual or entity); only photos without existing copyright claims are eligible.
Open to anyone living in the U.S.A who is age +18.
See all #TaterCreator photos at https://www.facebook.com/protassiumplus; to review complete contest rules and restrictions, click here.
---