September 8, 2015
Almond Harvest 2015: David Doll talks drought impacts, soil salinity & market expansion
---
4 Questions in 5 Minutes with David Doll – University of California Cooperative Extension Tree Nut Farm Adviser.
With almond production projected lower than it's been in six years, growers must deal with some formidable challenges. This year brought some areas unusual weather conditions during bloom – only adding to four consecutive years of drought challenges.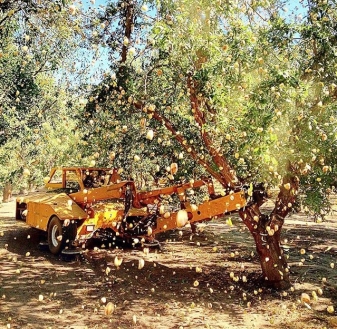 How does the future of almond farming look through the eyes David Doll (aka The Almond Doctor)? Compass Minerals® asked --- see his insights below:
Q1. How will this year's low almond production affect California grower profits?
While production is down, demand is still up – resulting in high market prices – making almonds profitable even with reduced yields. For the fortunate farmers maintaining high production, 2015 will be a lucrative year.
Q2. What are best practices for growers to consider to help combat increasingly dry growing conditions?
Maintain a quality water source. If water is marginal, consider a leaching program – starting in late November- to begin leaching accumulated toxic salts out of the rooting zone.
Q3. Are there any actionable recommendations, specific to K, almond growers can do to support orchard health and yield?
If implementing a leaching program, apply K 1) toward the end or 2) after the leaching has been completed. On soils with low exchange capacity, K can be leached especially if calcium amendments are being utilized to help "flush" sodium.
Q4. If the current dry conditions continue, how will almond production change – for farmers and the overall industry/economy?
Water quantity and quality will remain a priority. It will get harder to maintain high yields. Reduced yields will lead to an increase in world plantings – which may create some interesting market conditions when the drought ends.

David Doll is a nut crop pomology farm adviser for the University of California Cooperative Extension – Merced. You can follow his findings, research and forecasting on California tree nut production at http://thealmonddoctor.com/.
---